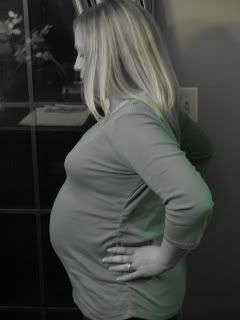 How far along?
21 weeks
How big are the babies?
Bananas!
Best moment this week:
Putting a big dent into clearing out the babies' room
Symptoms:
I feel very heavy!
Movement:
Tons!
Food cravings:
Pretty much anything anyone mentions
Genders:
A Boy and Girl!!!
Milestones:
5 Months down!
Development:
Babies' digestive systems are busy creating meconium (a tarry black substance made of swallowed amniotic fluid, digestive secretion, and dead cells), which will fill the first diaper after birth. And, if baby is a girl, her womb is now stocked up with her lifetime supply of six million eggs (the number will drop to around one million by birth).

Headlines from the week:
Northeastern calls an end to football
Northeastern University plans to announce today that it is ending its football program after 74 seasons, saying it is unwilling to invest the millions of dollars needed to improve the team to meet the school's ambitions.

Astronauts take spacewalk No. 3 after suit snag
CAPE CANAVERAL, Fla.—A pair of astronauts stepped out on the third and final spacewalk of their mission Monday to take care of some odd jobs at the International Space station.

Weather today:
Cloudy, 46 Degrees