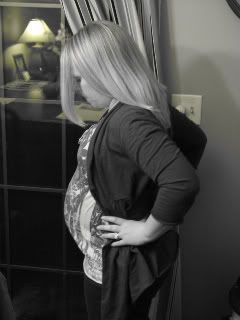 How far along?
20 weeks
How big are the babies?
Cantaloupes!
Best moment this week:
Picking out the babies' names! We will be welcoming Kaylie Shea and Cavan Michael!
Symptoms:
Starting to tire much easier than before. I just can't hang like I used to.
Movement:
Oh yes! They are moving a lot now, and Ryan actually felt some movement last night too!
Food cravings:
Pretty much anything anyone mentions
Genders:
A Boy and Girl!!!
Milestones:
Feeling actual movements and not just flutters!
Development:
Babies gulp down several ounces of amniotic fluid every day, both for nutrition and to practice swallowing and digesting. And, these days, those taste buds actually work! Studies show that after birth, babies respond best to tastes they've already had via amniotic fluid. Meaning, think about what you'd like your future child to eat as you prepare your own lunch.

Headlines from the week:
High tech to front line
Military tech is headed toward small, portable devices that can be tucked under helmets, stashed in backpacks, and sewn into uniforms.

Boston is getting ready to welcome its official Christmas tree. The 46-foot white spruce begins its journey from Nova Scotia this week and is scheduled to arrive at the Boston Common Friday. The Canadian province gives the city a Christmas tree each year as thanks for Boston's relief efforts after a munitions ship exploded in Halifax Harbor in 1917.

Weather today:
Mostly Sunny, 56 Degrees