Today was the BIG day! I'm going to start with the ultrasound and then go into the weekly update. So we went in for the ultrasound today! We both get nervous every time we get an ultrasound, but we also get so excited. First things first, heartbeats are perfect! We then move on to the measurements and they were measuring perfectly on schedule. They looked so perfect on the big screen. We just fall in love every time we see them.
So on to the BIG reveal! It's....a....BOY...and a GIRL! Congrats to all those who voted. Not to rub it in, but that was my guess as well while Ryan thought they were 2 boys. We are thrilled to be getting the best of both worlds and now can't wait for the next half of this pregnancy to pass so we can hold them in our arms. We did get some new pictures for all to see. Although we are saving the money shots for our personal collection as we don't want our children to be exhibitionists so early in life. So here they are!
Baby Girl's Profile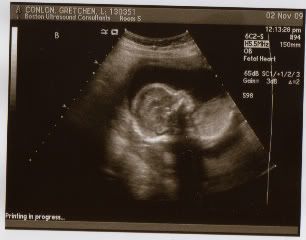 Baby Boy Profile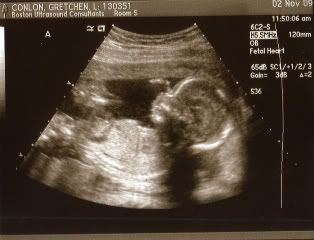 Baby Girl's Kinda creepy but still beautiful little face
Baby Boy's precious little hand saying hello to the world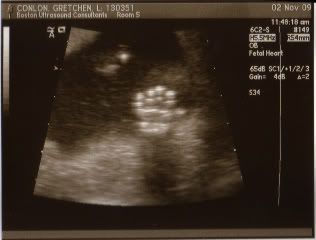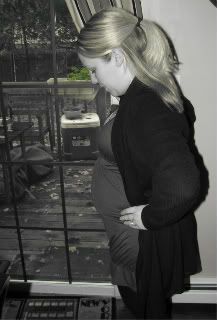 How far along?
18 weeks
How big are the babies?
Sweet Potatoes!
Best moment this week:
Finding out what our little babies are!
Symptoms:
I apparently can no longer lay flat on my back as it puts pressure on my blood vessels and makes me sick.
Movement:
A few little flutters
Food cravings:
Decaf pumpkin spice Dunkin Donuts coffee!
Genders:
A Boy and Girl!!!
Milestones:
Big ultrasound! Our babies look perfect
Development:
Babies' have become amazingly mobile (compared to you, at least), passing the hours yawning, hiccupping, rolling, twisting, kicking, punching, sucking, and swallowing. And the babies are finally big enough that you'll soon be able to feel her movements.

Headlines from the week:
Boston Bruins beat Edmonton Canada 2-0, scoring one goal for each twin, and we were all there!

Michael Jackson's 'This Is It' Is Top Film With $21.3 Million

Weather today:
Showers, 48 Degrees