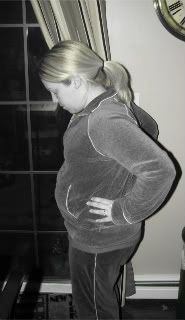 How far along?
16 weeks
How big are the babies?
Avocados!
Best moment this week:
One of my best friends, Shannon, got married!
Symptoms:
I have a definite bump going now, but I feel fantastic.
Movement:
None
Food cravings:
Cranberries, anything with cranberries
Genders:
2 weeks until we know
Milestones:
I am the most pregnant I have ever been
Development:
Watch what you say...tiny bones forming in babys' ears mean they can now pick up your voice. A few more minuscule changes: Eyebrows, lashes, and hair are starting to fill in, and taste buds are forming.

Headlines from the week:
Police: Balloon was a hoax
Last week's runaway balloon incident in Colorado was a publicity stunt, officials have confirmed.


patriots 59, titans 0
Snow doesn't slow Brady, Pats

Weather today:
Flurries, 36 Degrees