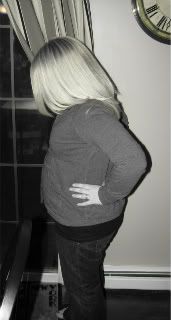 How far along?
15 weeks
How big are the babies?
Naval Oranges!
Best moment this week:
Hearing the babies' heartbeats and Having a date night with Ryan.
Symptoms:
A little tired still and a few headaches.
Movement:
None
Food cravings:
Homemade macaroni and cheese with mustard... don't judge!
Genders:
Unknown
Milestones:
Scheduled my BIG ULTRASOUND!
Development:
Continuing the march toward normal proportions, baby's legs now out-measure their arms. And, finally, all four limbs have functional joints. Your fetuses are squirming and wiggling like crazy down in the womb, though you probably can't feel the movements just yet.

Headlines from the week:
President Barack Obama wins Nobel Peace Prize

MONTREAL—Canadian space tourist and circus billionaire Guy Laliberte mixed star power, science lectures, music and poetry in hosting a show from the International Space Station that was broadcast on television and the Internet.

Weather today:
Partly Cloudy, 56 degrees