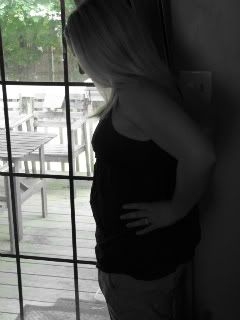 How far along?
8 weeks
How big are the babies?
Raspberries
Best moment this week:
Finding out we're having TWINS and seeing their strong heartbeats!
Symptoms:
Definite morning sickness, a little bit bigger belly, and still very tired.
Movement:
None yet
Food cravings:
I've really been liking soup lately
Genders:
Unknown
Milestones:
First ultrasound and appointment!
Development:
Babies are growing like mad, putting on about a millimeter every day and continuing to straighten out in the trunk. Though you can't feel it yet, the babies are moving those little arms, legs, and (now only slightly) webbed fingers and toes like crazy.

Headlines from the day:
Hurricane Bill taunted the local coastline with a string of beach closings and safety warnings still in effect. Above, lifeguards check out the Edgartown surf.

Aerosmith's future questioned amid woes
The band's followers, and some people close to the band, can't help but wonder: Is the Rock and Roll Hall of Fame-enshrined group - whose median age is 58 - nearing its end?

Weather today:
Partly Sunny, 80 degrees