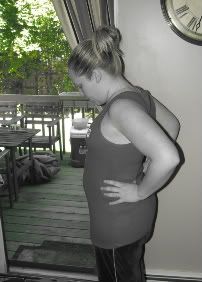 How far along?
12 weeks
How big are the babies?
Plums
Best moment this week:
I could have sworn I felt a flutter, although it may have been gas :)
Symptoms:
Still some nausea and still a bit tired
Movement:
Possible, but inconclusive
Food cravings:
Friday I had to have a taco salad
Genders:
Unknown
Milestones:
1st Trimester down, 2 to go!
Development:
As you move into the second trimester, babies shift into the growth and maturation stage. After weeks in the critical development stage, almost all of their systems are fully formed.

Headlines from the week:
Cleveland Browns sign Raymond Ventrone to the Roster. (That's Uncle Bub to the twins!)

On September 14, at the age of 57, Actor Patrick Swayze died after an extraordinarily brave and dignified 20-month battle with pancreatic cancer.

Weather today:
Mostly sunny, 67 degrees